Sponsorship Benefits
DIAMOND Sponsor (2,000,000 JPY)
4 × Complimentary 3m × 3m booths or spaces
Priority booth selection
4 × Banquet tickets
4 × Complimentary regular registration
8 × Exhibitors' registration
1 page advertisement on an e-program book
Logo Exposure on the APRIM 2023 official website
Advertisement to be distributed from the conference's official Twitter and Facebook
Logo Exposure and Advertisement on the front screen before and after session in meeting room
Logo Exposure on Sponsor & Exhibitor Wall inside the Exhibition hall
Logo Exposure at the entrance of the venue
GOLD Sponsor (1,000,000 JPY)
2 × Complimentary 3m × 3m booths or spaces
Priority booth selection
2 × Banquet tickets
2 × Complimentary regular registration
4 × Exhibitors' registration
Half page advertisement on an e-program book
Logo Exposure on the APRIM 2023 official website
Logo distribution from the conference's official Twitter and Facebook
Logo Exposure and Advertisement on the front screen before and after session in meeting room
Logo Exposure on Sponsor & Exhibitor Wall inside the Exhibition hall
Logo Exposure at the entrance of the venue
SILVER Sponsor (500,000 JPY)
1 × Complimentary 3m x 3m booth or space
Priority booth selection
1 × Banquet ticket
1 × Complimentary regular registration
2 × Exhibitors' registration
Logo Exposure on an e-program book
Logo Exposure on the APRIM 2023 official website
Logo Exposure and Advertisement on the front screen before and after session in meeting room
Logo Exposure on Sponsor & Exhibitor Wall inside the Exhibition hall
Logo Exposure at the entrance of the venue
Exhibition Hours
The Exhibition will be open from 1 pm to 6 pm on August 7 and from 9 am to 6 pm from August 8 to 11.
Location
The Exhibition will take place in Exhibition Hall C at the Big Pallet Fukushima in Koriyama City, Fukushima Prefecture, Japan. Coffee will be served in the Exhibition Hall to allow exhibitors to maximize networking opportunities with participants, exhibitors, and visitors.
Tentative Exhibition Layout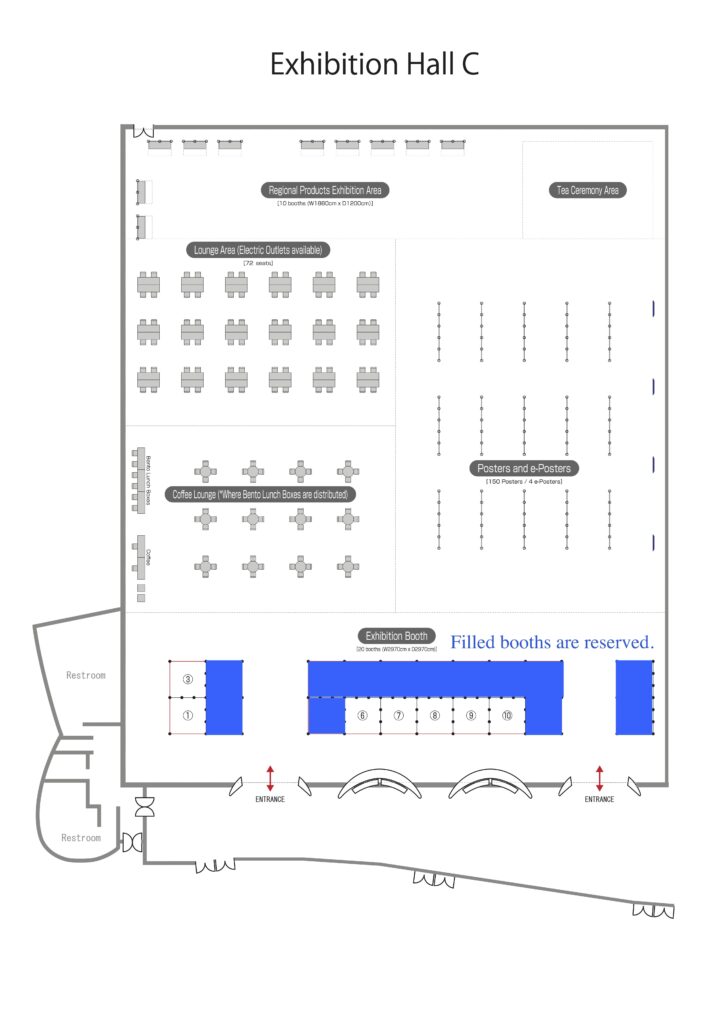 Sponsorship Application
To learn more about Sponsorship and Exhibition, please download Sponsorship & Exhibition Prospectus.